Ogden Masonic Temple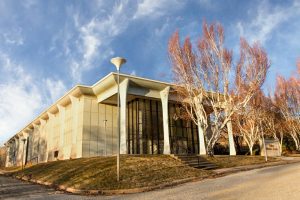 The Ogden Masonic Temple is host to:
3 Masonic Lodges,
3 Ogden York Rite Bodies
4 Chapters of the Order of Eastern Star,
1 Bethel of Job's Daughters,
1 Chapter of DeMolay,
The Ogden Shrine Club,
The Ogden Scottish Rite Club,
The Ogden Masonic Library Club, and More.
Since 1966, the Ogden Masonic Temple has served Weber, and Morgan County as the center of Community and Fraternal development.
1240 20th Street

Ogden

,

UT

84401-0701

Located just North of the Fresh Market shopping center
on the "Northeast Corner" of 20th Street and Harrison Boulevard;
next to the mouth of the canyon and the El Monte Golf Course
in the heart of beautiful scenic Ogden, Utah.
This building contains:
a spacious banquet hall (Max. Occ. 185)
full sized commercial grade kitchen,
two meeting rooms,
a private library,
Elevator (Max. Weight 1500lbs.)
4 separate restrooms located indoors
2 separate restrooms located at the pavilion.
two full sized parking lot,
a secondary kitchen adjacent to a covered pavilion
centrally located on a quarter acre field with lush green grass and rolling hills.
Facility Size: 8,050 sq. ft.
Accessibility Information
PARKING INFO
more than 80 parking spots located on the West and East Parking Lot. East Parking lot near front door. Handicap friendly entrance parking accessing
Its perfect for:
TV & Film Productions,
receptions,
banquets,
parties,
dances,
business retreats,
concerts,
reunions,
family events and more.
 To request to rent a portion of the building, or the pavilion just click on the images below,
Property Management
Masonic Fraternal Home Association of Ogden, Utah
(Also known as the Masonic Templeboard Association)
Mailing Address:  PO BOX 1085, Ogden, UT 84402-1085
 General Manager: Jim Sweet, PM           or email  
Vice-President: Clay G. Hamblen    or email 
Maintenance: Steve H. Peterson   or email 

   Home Page