The Golden Hammer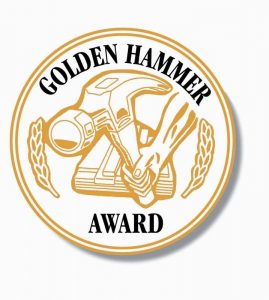 The 'Golden Hammer' is an Award for Personal Excellence in Masonry within Golden Spike Lodge № 6 F&AM of Utah. Started by Past Master- WBro. Martin Wallace Moss, PM in 2004; this tradition honors a Freemason who has "nailed it!" in Masonic Ritual, Education, Lifestyle, Culture, and Decorum.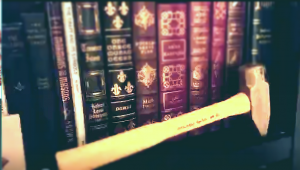 Rules for investing a Brother with the Golden Hammer:
The current recipient of the Golden Hammer shall investigate the current membership in search of a Brother worthy for this investiture.
It shall be the solemn duty of the current recipient to invest a new Brother worthy of this honor; with the 'Golden Hammer' Award for Personal Excellence in Masonry .
To be eligible for this investiture, the following factors may be considered by the current recipient:

A Brother being considered must be a member in good standing of Golden Spike Lodge № 6 F&AM of Utah;
Must actively participate in Lodge events and Programs; and
Must attend at least 2/3rds of the Lodge Meetings (Business , Degrees, Education, Trainings, Lodge of Instruction);
Must live in accordance with the principles and tenets of Freemasonry.
Must commit to memory, and deliver with excellence; the ritual of the Utah Standard Works as defined by the Masonic Code of this Jurisdiction.

The Golden Hammer cannot leave the jurisdiction of Golden Spike Lodge № 6 F&AM of Utah.
If a Brother meets all requirements, the current recipient must invest this Brother with the Golden Hammer at the next Regular Communication or Stated Business meeting of this Lodge, at the appropriate time.
The Golden Hammer must return to Worshipful Master's possession at each Annual Installation of Officers prior to Saint John's Day (December 27th).
Golden Hammer Recipients
Ronald Kimeron Speaks, PM
James L. Sweet. PM
Eric Eelke Evenhuis, PM
Mark A Rivea
Perfecto "Pete" Vigil, PM
Charles W. Steinberg, PM
Maurice Nelson, PM
Wm. E. McCraw, PM
Michael Parry Smith, PM
Parry Michael Smith, PM
Christopher J. Davis, PM
Aaron D. Tafoya, PM
Jason R. Cook, PM
Rickard F. Bartolic, PM
Stephen H. Peterson, PM
William Claude McMillen Jr. , PM
Anthony Lella, PM
Joshua A Davis
Richard Vier
   Hiram Award